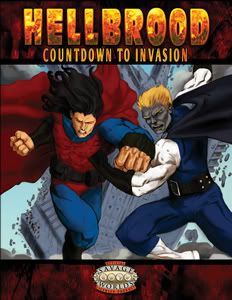 The invasion has arrived!
Hellbrood: Countdown to Invasion
is a massive six adventure miniseries where you will not only face the world's deadliest supervillain, but also battle on the front lines of a war against an alien race determined to destroy the Earth.
Designed for the award winning Savage Worlds role-playing game and the Super Powers Companion, this volume includes five playable races, new Edges and Hindrances, and new setting rules— including how to perform Power Stunts and expand your hero's capabilities.
As long as there are superheroes to draw breath, there is a future. As long as you still stand, Earth will never go quietly into the night.
The Hellbrood War is just beginning!
Available now at
RPGNow.com