*phew* It has been awhile since I've posted anything. I've been doing my art and I've had things to post, but I've been trying to put to bed the first 8 pages of the comic I'm doing for Time Tribe.
Why I am bringing this up, is because Time Tribe has just launched their kickstarter looking for some funding. Here is the link:
http://www.kickstarter.com/projects/136 ... nture-game
But just to give you some background, Time Tribe is a video game. I'm doing some artwork for the in-game comic book, where pages will be unlocked as the player proceeds through the game. It is a game aimed at kids and teaching them history as the 4 young kid protagonists have the ability to travel through time to visit various eras. I could tell you more but the link will be a lot more clear and succinct than my poor writing skills.
Luckily, I have other skills. Like drawing. And my clients have given me permission to put up 2 pieces of artwork. Actually, I will be putting up 3, as 2 images are of the same thing... the gift shop. The first sketch I did was not the right angle and when I got a map of the actual mansion where the kids live and explore helped tremendously, so I wanted to show my evolution to the 2nd one. They really needed a ground floor view for the video game in-scene. Unfortunately, I never finished the gift shop as I had to move onto painting some NPCs and get started on the comic pages.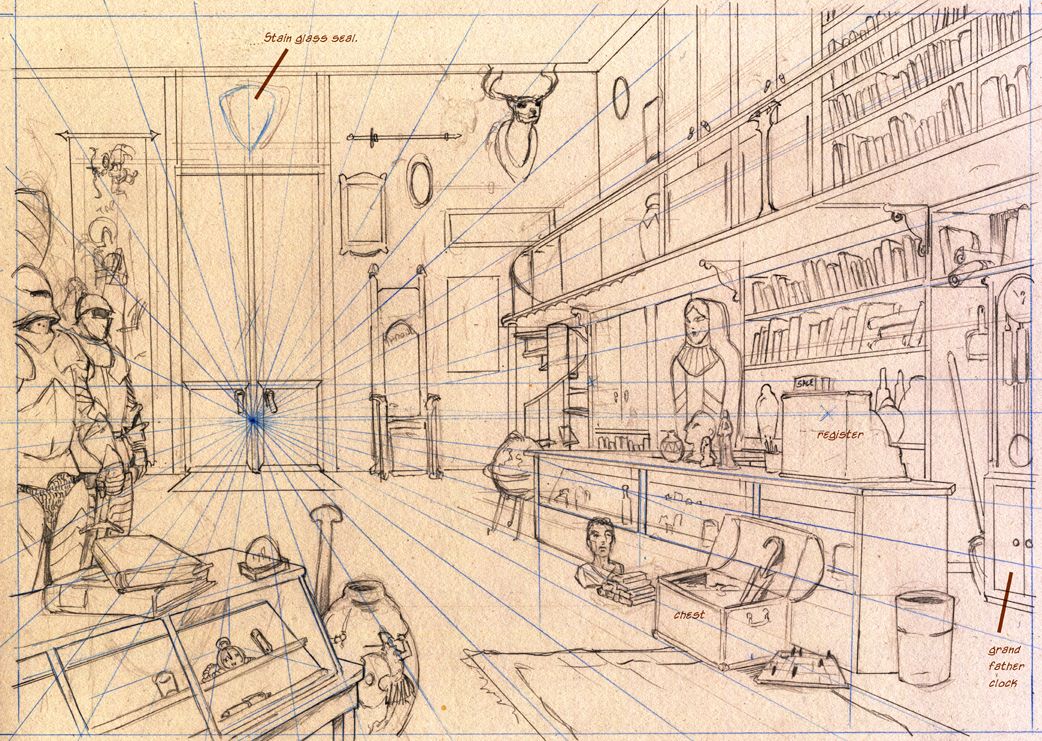 And here is an example of the digital color over pencils style I'm using for the comic pages. This happens to be page 13 (we are doing them out of order because certain pages are needed in-game more dearly than others).
So. There you have it. A taste of what has been consuming much of my time over the last month or so. Hope you are intrigued. If you have kids, really consider backing Time Tribes... I think it is an awesome way to spark some interest in history.